Leaf Stopper Kits and Components
Leaf Stopper is available in convenient Kits which contain all the components to complete an installation. Alternatively, components can be purchased separately.

Leaf Stopper is available in 3 Mesh Types
BEFORE & AFTER
Installing Leaf Stopper provides the best chance of leaves sliding off and blowing away in the wind and the few that may be left are easy to maintain. Better to have them accessible on the roof than caught in the gutter where they can rot, cause blockages and long term damage.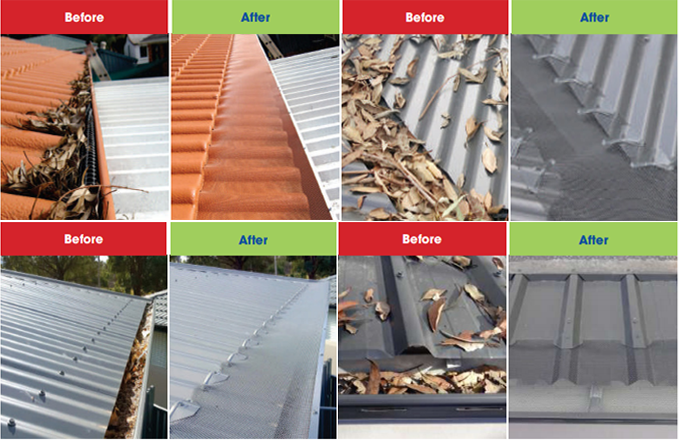 Suits most roof types
Tile, Corrugated and Deck style profiles (eg, Trimdek, Monoclad, Superdek, Trimclad, etc)
Range of 22 Colours
Most Colorbond® and other popular colours available
Zero (highest) fire rating
With full certification from the CSIRO
Supplied in Kit form ready to install
Everything you need for a perfect installation
Mix 'n' match roof and gutter colour
A perfect colour blend to match your roof
Great for catching more clean water
Ideal for rainwater tanks
Aust Design Award 'Ski-Slope system'
The ultimate in Gutter Protection systems
Suits Gutter Edge and Valleys
A complete solution to Gutter Protection
15 year product warranty
A warranty provided by an Australian Company established for more than 15 years
Installation Videos & Support
Professional and Detailed installation information and videos available at www.leafstopper.com.au
Top Idea distributes its gutter guard and other products through hardware stores and reseller outlets Australia-wide.
Top Idea is an Australian owned company, operating since 1996